How To Find The Perfect Curtains For Your Home!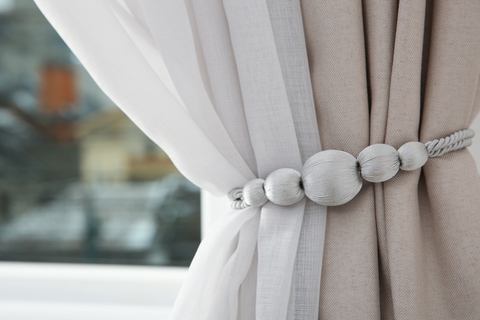 Finding Perfect Curtains For Your Home
One of the most important design pieces to finish off any room is the curtains. They have to sit perfectly with the interior design, but also fit your window correctly to be functional. You'll need them to block out the sunlight when it gets a little too bright, but also be light enough to let some air in when it's warm.
What Are The Main Things To Consider When Buying Curtains?
To ensure your curtains remain stylish, yet functional, there are a few main things that you'll need to think about.
● Curtain Fabrics
The material you choose will entirely depend on which room in the house you need to kit out. If it's in the kitchen or bathroom, you'll need something that's not overly pleated or fancy. Simple, synthetic, or cotton curtains will work best as they can be maintained easily in the washing machine. You should avoid anything that requires dry cleaning.
If you're looking for a new bedroom look, that's when you could potentially reach for a fancier design as they won't need cleaning as often, so dry cleaning isn't an issue.
● Functionality
You'll also need to consider the functionality of the material. If you live in a colder climate and the curtains are for your bedroom, you'll want to select something thick with a blackout lining. This will keep out the cold air and also keep your bedroom dark when you're sleeping.
However, if your curtains are to accompany a set of French doors, the whole idea is to let some light in and warm the place up, so you'll want to find something a little lighter.
● Size
The length of your curtains is incredibly important. You don't want to miss off the bottom few inches. It'll let the light in, plus it won't provide the high-end finish that you're looking for. Ideally, curtains should rest around 3 inches below your windowsill or reach the floor without bunching up if they're to go over doors.
● Curtain Styles
The pattern is everything when it comes to design. If you're looking to spice up the room, against a plain, painted wall, then a patterned curtain will work for you. However, if you're matching your curtain up to patterned wallpaper, you might want to go for a planer curtain, to complement your interior design.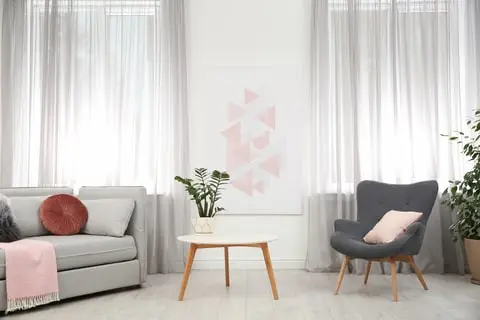 ● Colour
Plain pastel colours work well for a luxury, traditional feel and can seem more homely. However, a patterned design with bright colours could work well with a modern design to breathe new life and fun into the room.
● Accessories
Some curtains don't need accessories, they're fine to be hung as they are. However, if you have a traditional-style room, you might want to add that touch of class by getting some sweeping tiebacks. They make the curtains seem heavier and can make your windows seem larger if done correctly.
Buying Bespoke Made Curtains
Some people will automatically think of buying off-the-shelf when it comes to choosing curtains. However, bespoke curtains made by local companies are a better option for quality and longevity.
● Tailor-Made
Some windows, especially in older houses, aren't going to fit with the standard measurements of curtains. This often means that you'll have to have curtains taken up and they never look quite the same after being altered. However, using a local company to make made-to-measure curtains means that someone will visit your home and measure your window to achieve the perfect size, for the first time.
● Unique
Choosing your material, rather than buying in a shop, means that your curtains are unique to your home. You can set off your decor with something completely different from everyone else.
● Longevity
Bespoke curtains are made with love and care, which means that they're made to last. A made-to-measure curtain that's designed just for you is likely to have much higher-quality stitching and will last for much longer.
Bespoke curtains also come with the knowledge and advice of the person creating those curtains. Using a local business, like Blinds in Harmony, means they can visit your home, make recommendations to ensure you get the very best curtains and achieve your decor dream.
If you would like to find out more about how Blinds in Harmony can help you create the curtains of your dreams, get in touch on 0800 028 2942 or head over to our contact page for more details.