What Are The Best Blinds For An Office?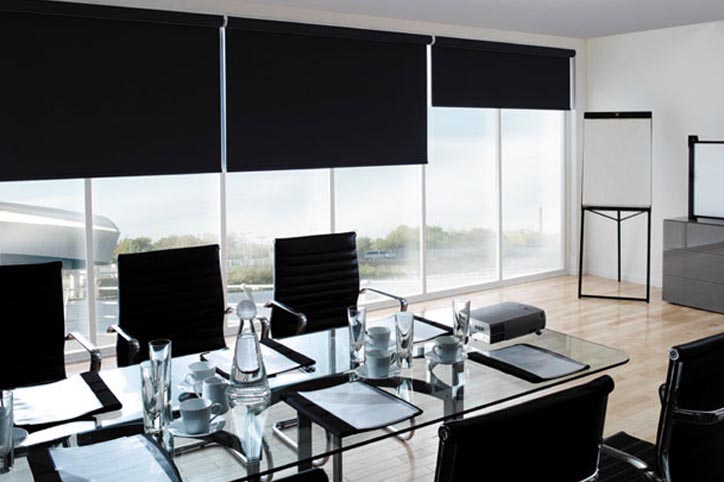 The Best Blinds For Offices Spaces
Are you looking to update the blinds in your office space? Whether it's for a home office, meeting room, or open floor plan, choosing the right type of window covering is an important decision. Not only do they have to look great and fit with the overall style of your interior design, but they must be functional and provide the level of privacy and light control you need. Let's take a look at the best blinds for commercial office spaces.
Automated Blinds
Automated blinds are a great choice for office spaces as they provide comfort and ease of use via remote control. This makes them ideal for meeting spaces where privacy and light control on demand is essential. For example, when presenting in a conference room, automated office blinds provide the perfect level of lighting for your presentation. Automated blinds are also great for large open-plan offices as they can be operated simultaneously across several windows.
Venetian Blinds
Venetian blinds are one of the most popular options for both home and commercial office spaces. They come in a range of materials including PVC plastic, metal, or wood so you can find the perfect style to suit your interior design. They are also a great choice if you're looking for something affordable yet stylish.
Vertical Blinds
Vertical blinds offer incredible levels of privacy while still allowing natural light to enter the room. They have adjustable slats so you can control the amount of light that is coming through during the day. This type of office blind is often used in commercial office spaces with larger windows, as they provide the perfect fit and can be adjusted as needed.
Roller Blinds
Looking for made-to-measure commercial blinds on a budget? Roller blinds are an affordable but stylish choice for any office space. You can choose from a variety of colours to match your office's overall style and design – which makes them great for creating a professional and on-brand atmosphere. Roller blinds also allow you to control the amount of light that is coming into the room while still keeping in a certain amount of light and ensuring privacy. They are similar to Roman blinds, but are more cost-effective.
Roman Blinds
Roman blinds offer the perfect combination of style and function – not just in home office spaces but in commercial office environments too. Effective at keeping heat and providing privacy while allowing natural light to enter the space, they come in a variety of colours and designs to suit all tastes and office styles!
Considering Office Blinds
Automated blinds, venetian blinds, vertical blinds, roller blinds and roman blinds are all excellent options for commercial office spaces. Depending on your requirements and budget, you can find the perfect solution that suits your needs. Simply consider your needs in terms of convenience, style, privacy, light control and budget, and you'll be able to find the perfect fit for your office.
Commercial Blinds At Blinds In Harmony
At Blinds In Harmony, we understand the importance of making sure your office space looks great and works efficiently. That's why we offer a variety of office blind solutions to suit all needs and budgets.
Get in touch with us today to discuss your bespoke office blinds requirements and get a quote on our range of options for commercial office spaces. We look forward to helping you create the perfect atmosphere in your office!