What are Vertical Blinds?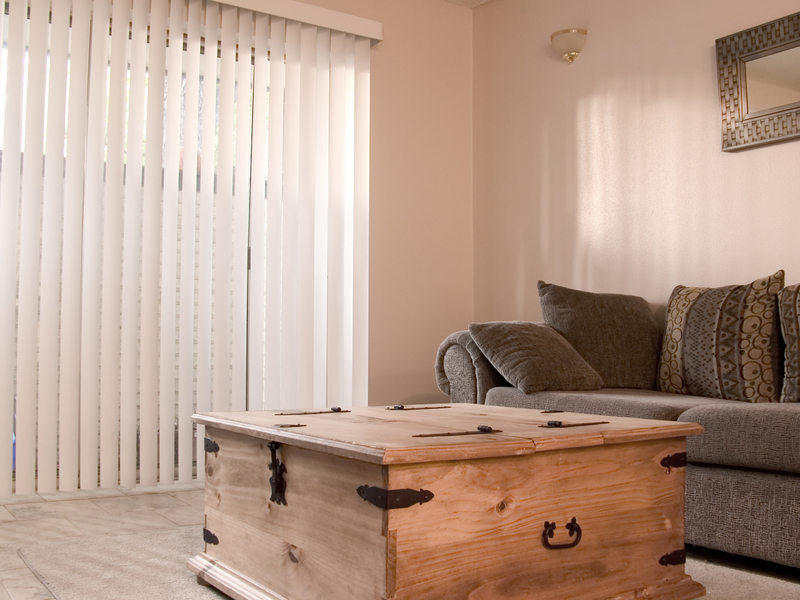 A vertical blind is a blind made up of vertical lengths of fabric. These lengths are clipped to a sliding track at the top end and operated with a plastic wand or chain. 
The pieces of fabric, which are sometimes known as louvres or slats, are joined together by weights to make sure they are evenly weighted across the track's length regardless of if they are fully extended across the track or nestled together so that extra light can be let in. To stabilise the blinds, the louvres are joined together by a chain at the bottom end.
Benefits of Vertical Blinds
Vertical blinds have been designed to offer control over privacy and light within your living space. The vertical louvres can tilt and turn depending on how much of a gap is required and they can be drawn back completely to enable more light to enter a room. The amount of light that enters a room where vertical blinds are installed is usually far greater than the amount offered through vertical blinds.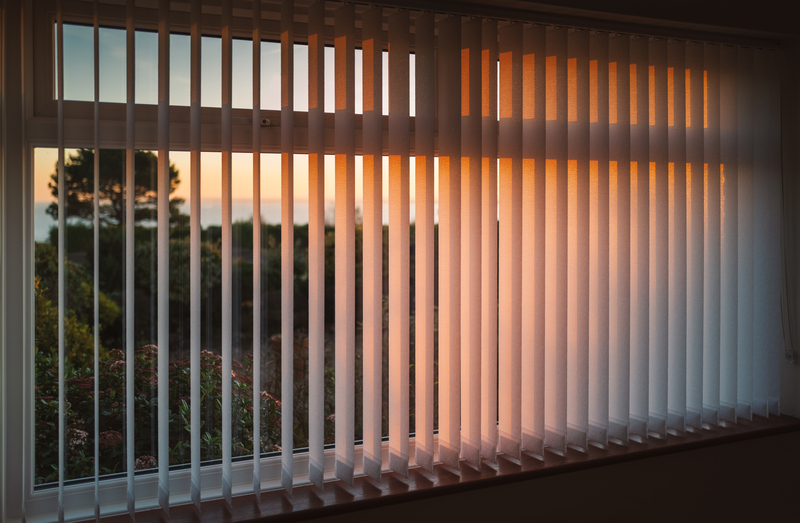 They are practical in that they serve these functions very well, but also add positively to home aesthetic as they are available in plenty of attractive styles.
Larger windows are an ideal location as horizontal or roller blinds are often not as suitable for large windows. Having said this, because they constructed louvres that are weighted together, vertical blinds can be adjusted to fit any length window. If you need blinds for a patio or long window inside an office, for instance, vertical blinds offer a great level of light adaptability that you will not get from other blinds.
Another great benefit that vertical blinds have is that they can fit challenging window spaces, such as an area that is sloped or has a split drop. You'll likely find vertical blinds fit much better than horizontal ones with these window types. If you have a space that would benefit from floor to ceiling blinds, for example, a conservatory, then made to measure vertical blinds come highly recommended as they will fit your needs perfectly.
Maintenance is understandably a concern, with many people wanting a blind that is easy to maintain and doesn't take up loads of time in doing so. Well, the good news is that vertical blinds need little maintenance to stay looking and functioning at their best.
The louvres can be cleaned with a damp cloth to get rid of the majority of dirt and dust. And unlike horizontal blinds where debris tends to become trapped between their slats, the louvres of vertical blinds cause the debris to fall instead. Although the cleaning of the rail may take a bit more work, this will only need to be done occasionally. Again, a damp cloth will do the job, as you unclip each blind and wipe the rail.
Vertical blinds have plenty of benefits. If you have a unique shaped window, or just want to make sure you have an exact fit or a certain style that pre-made blinds don't offer, find yourself a good made to measure vertical blinds service. 
If you would like to find out more about how we can help you and your vertical blind needs, get in touch today on 0800 0282942 or head over to our contact page for more details.